EBJ & THE HYPE CYCLE
While we at EBJ think of ourselves as forward-thinking industry analysts, we like to acknowledge other pioneers and apply their analytical frameworks to the environmental industry. Here we recognize Gartner and its 'Hype Cycle' a technology adoption curve typically applied to the tech industry.
The Hype Cycle has been more frequently used to map investment propositions, so the presentation of technology being applied in the environmental industry with its absence of mass media or pre-IPO hype may not be a perfect match, but the basic flow of expectation and pace of adoption over time is a reasonable analog for market adoption.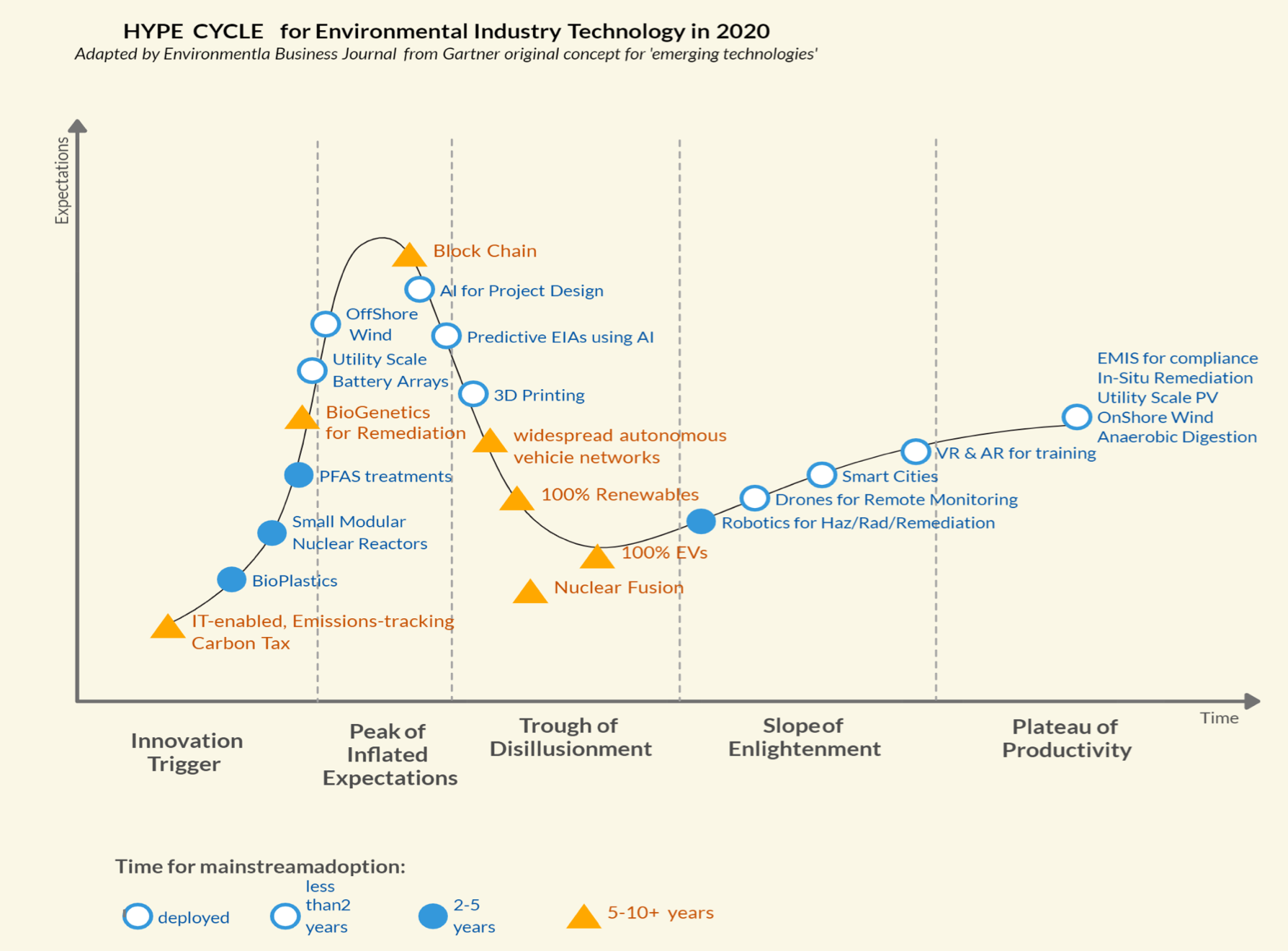 EBJ version one of a Hype Cycle for Environmental Industry Technology is by no means the last word on the subject. We wish to stimulate thought as to likely alternative trajectories for the 2020s. Ascendant technologies include PFAS treatments, renewable energy & energy storage at scale, biotechnology and carbon market enablers, but it is possible the most influential technology doesn't even appear on this graph, or even in this 60-page edition of EBJ.
Block Chain, AI, 3D and AVs may appear on the chart on the slide to disillusionment, but that doesn't mean they can't reach a state of productivity. Market acceptance beckons for many a technology to join the others in wide deployment, and we may not know which will cross the chasm, but we do know that the environmental services industry will play an influential role in determining which ones do.
We welcome you to share your opinions on this topic.
https://ebionline.org/wp-content/uploads/2017/10/EBI-Website-Logo.png
0
0
Anika Rohlfes
https://ebionline.org/wp-content/uploads/2017/10/EBI-Website-Logo.png
Anika Rohlfes
2020-12-10 16:30:41
2020-12-10 16:30:41
EBJ & The Hype Cycle